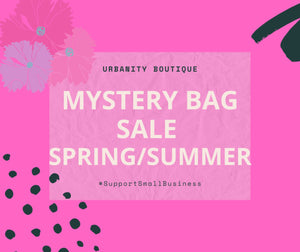 Mystery Bag Sale- Spring/Summer
Like some shopping excitement in your life?  Our Mystery Bag Sale is for you!  There will be 3 items in your bag (examples of what might come in your bag are tops, shorts, rompers, dresses).    Sizing Small, Medium, and Large available.
  Available while supplies last!.  Shipping is $8.95 or in store pickup is available.  **All Sales Are Final (if your items don't fit, they were super cheap so give the item to someone else).